PRODUCT & SERVICES
Services
Buy
Buy quality produce at reasonable prices – Be assured of quality and value
Sell
Sell your harvest/stock at best prices – Simply list your trades, obtain the best prices for your stock, and receive money through a highly secure payment system
Trade Financing Support
Trade financing support – Our portal makes getting financial aid for your trade easier. Click here to connect with companies for trade financing purposes
Test & Certify Stock
Test and certify stock – Diagnose the quality of produce with registered labs through Farm To Fork, and receive certified quality reports
Trade Settlement Services
Trade settlement services – Reduce your counterparty risk through our digitized settlement services
AgriOrigin
The one-stop shop for all your commodity requirements!
We source only the freshest, most wholesome produce from trusted farmers. Choose yours now to get them delivered straight to your doorstep!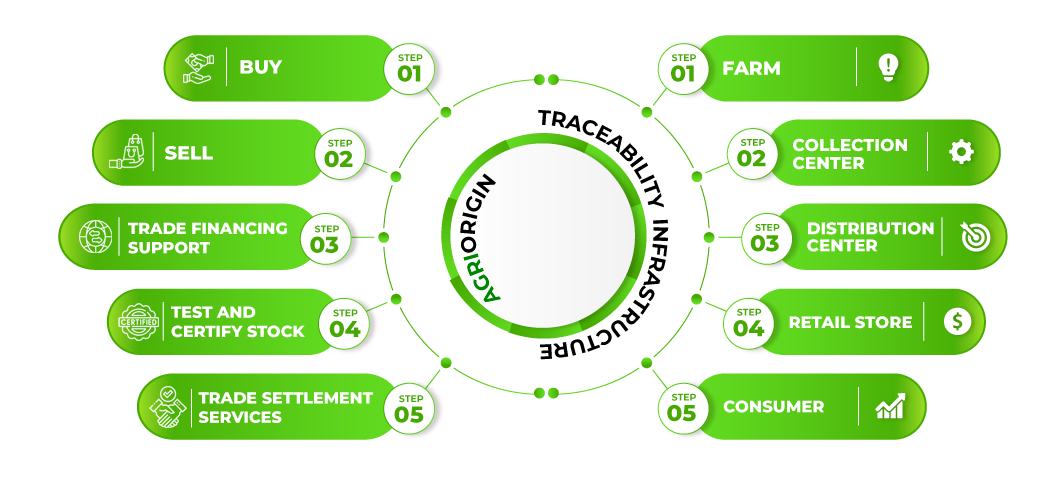 GET YOUR CROP TESTED
Find Your Lab
Select the best lab among registered ones around you. Check the price quoted, and choose the best one for your stock.
Pay Securely
Make your payment either online or offline through our PCI-DSS certified payment system.
Stay Updated
Receive regular notifications from us regarding the status of your stock testing. We make sure to keep you posted!
Farm to Market and Beyond
Additionally, we offer a traceability service that allows you to test your stock and get it certified. Called 'Farm To Fork,' it detects the origin of a particular product and reveals in-depth information about it, such as the location and methods of its growth and harvest.
As a grower, you can provide your customers with legitimate credentials of your produce and quality assurance through Farm To Fork. As a consumer, you are able to verify that your purchase meets the standards that it claims to follow.
Farm To Fork eliminates any room for doubt when it comes to confirming the properties and quality of your produce.